Upcoming Stamp Auctions
---
September 26-27, 2017 Sparks Auctions Ottawa, Ontario Public Auction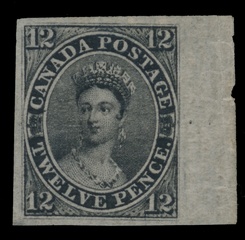 The highlight of our 25th sale is a selection of gems from the Outaouais Collection beginning with a very fine mint #1, #2, and an exceptional mint #3, the Twelve Penny Black. A rare block of eight of the 12d with vertical specimen overprint, a pair with diagonal overprint, as well as mint #4, #5 and many others continue the Canada pence, through to choice modern errors and varieties. Revenue collectors will enjoy rare Canadian Pacific Railways Telegraph and Bell Telephone Company booklets.

We offer a lovely mint collection of Great Britain, other single country collections, used British Commonwealth, and part one of an extensive worldwide collection formed by Dr. Dubé. Postal History includes quality dealer stock, some early US covers, plus many Canadian postmark lots including: New Brunswick town cancels, The Jim Miller collection of Orb cancellations, The Murray Marchant collection of 2-ring numeral cancellations, and several lots of fancy cancellations.
Website:sparks-auctions.com
e-mail: info@sparks-auctions.com
---
November 5, 2017 John Sheffield Philatelist Ltd. London, Ontario, Canada Public Auction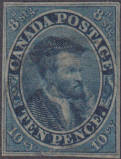 Our 183rd consecutive auction features larger lots, intact collections, and a range of "Floor Sale Only" lots (you must be present to bid on these). In addition postal history is well represented with Catapult and Rocket Mail covers, Essex County covers and a great selection of advertising and other covers from London, Ontario. The sale is rounded off with better single stamps from various world wide countries and Canada.
Online bidding available
Website:www.johnsheffield.com/auction/auctionindex.php
e-mail: john@johnsheffield.com
---
Every Wednesday Weeda Stamps Ltd. Victoria, British Columbia Internet only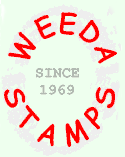 Weeda Stamps has held a regular weekly bidboard auction since 1976. The online component of the sale began in 1993. On December 3rd 2006 the auction transitioned to an exclusively online operation. The weekly auction offers a minimum of 160 Canadian and Worldwide lots, all with high quality scans or photos. There is an easy to use automated online bidding system. Any queries or bids can also be phoned in at 1-250-385-1826 or toll free at 1-888-685-1826. Each auction closes Wednesdays at 7:00 pm Pacific Time.
Online bidding available
Website:www.weeda.com
e-mail: beverly@weeda.com
---
Every Saturday All Nations Stamp And Coin Vancouver, British Columbia Public Auction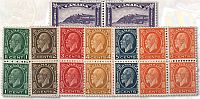 Weekly auctions of Canada, and World, Stamps, Postal History, and collections, including material from the Chris McGregor collection. No buyers premium. Bid in person, online, by phone, fax, or email. Every Saturday at 12:00 noon
Online bidding available
Website:www.allnationsstampandcoin.com
e-mail: collect@direct.ca
---
CSDA Members
To have your sale included in this list, please fill out this form.